Profile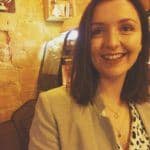 Danielle Hett
My CV
Education:

Northcliffe Comprehensive School
Wath Comprehensive School
Loughborough University
University of Sheffield
University of Leicester
University of Birmingham.

Qualifications:

I completed my GCSE's at Northcliffe Comp and my A-levels at Wath Comprehensive School. I then did my undergraduate degree in psychology with ergonomics at Loughborough University. After my degree, I went on to work in primary care mental health as a psychological wellbeing practitioner and completed a PG CERT in Low Intensity Psychological Interventions at the University of Sheffield. Then after some more time working in mental health services, I went on to complete my Masters degree in Psychological Research Methods at the University of Leicester and then my PhD at the University of Birmingham.

Work History:

First ever job was a paper round! Then during my A-levels I worked in a clothes shop at the weekends and during my undergrad degree I worked behind the bar at the student union.

I also did a placement year at uni and worked as a support worker in a forensic mental health hospital and once I graduated I continued to work in different mental health settings – such as primary care mental health as a psychological wellbeing practitioner; an assistant psychologist. Whilst working part time in primary care mental health I completed my masters degree and then went on to do my PhD.

Current Job:

I'm currently working as a Research Fellow in the NHS and working in mental health research, mainly around mood disorders such as depression and bipolar disorder.
About Me:

I'm a psychologist working in mental health research. I'm curious, hardworking and humble and I enjoy learning new things and helping others where I can!

Read more

Hello- I'm Danielle, a psychologist working in mental health research. I am originally from Yorkshire but have found myself living and working in Birmingham after completing my PhD at the University of Birmingham. I enjoy nothing more than getting out and about in nature and planning new places to visit and travel too! I also try and keep fit with yoga and plenty of walks. I also have a slight obsession with dogs and can't wait till I can have one of my own- well when I say one, I really mean a whole team of dogs!!

Read more

My PhD research was focused on one mental health disorder called post-traumatic stress disorder (PTSD). This is a mental health condition that people can suffer with when they go through a really distressing and frightening experience, such as being in a car accident. PTSD can make people feel very anxious, stressed and worried about the future.

What's interesting is that some people can experience a distressing event and go on to lead their normal everyday lives, whereas some other people will go on to struggle with their mental health and get PTSD. So why do some people recover well after a frightening event and some people do not?

This is something that I have always been interested in. In my PhD research I looked at one way to help prevent someone from developing PTSD, which involved me investigating something called metacognition.

Metacognition, simply put, refers to thinking about one's thinking….this sounds a bit confusing right? But we all have lots of thoughts running through our minds everyday, but being able to recognise and be aware of our thoughts is an example of metacognition, thinking about your thinking!   

In my NHS research job now, I am researching other mental health conditions such as mood disorders. These refer to disorders whereby people struggle to manage their mood, so they may feel low or down a lot (like in depression) or their mood may swing from being very low to very high (like in bipolar disorder). Some of my research here focuses on developing new treatments to help tackle depression in young people.

My Typical Day:

I spend most of my day at the computer analysing data or either writing about or talking to others about my research. I often drink lots of tea and eat lots of biscuits while doing this and ensure I take breaks to go outside and stretch my legs!

Read more

I usually wake up and have at least one cup of tea and one cup of coffee before I jump in the shower. I then usually try and eat some breakfast (although I'm not very good at this!) while I go through my emails and see what meetings I have that day. I then try and pick 3 key things that I need to get done that day so I can try and keep on track. I'll be glued to my computer all morning and then I usually go for a walk around lunch and might ring a friend or family member while I'm out. Then I head back and get stuck into more work – whether that's analysing data, writing up research studies or in meetings about other projects. I'm a bit of a night owl, so I work best in the evening and then I try and squeeze in some form of exercise before I eat my dinner and try and relax for the evening.

What I'd do with the prize money:

In my role now I have engaged several times with the Young Persons Advisory Group (YAG) at the University of Birmingham – which is made up of young people aged 18-25 who either have lived experience or a strong interest in youth mental health. They are a wonderful and insightful group who have helped me (and many other researchers at the uni!!) to shape and develop my research projects further.

If I won the prize money I would use it to work more closely with the YAG and either donate the money to the group or help plan activities with them to support research into youth mental health further! 🙂

My Interview

What did you want to be after you left school?

I wanted to be a vet for a long time as I love animals!

Were you ever in trouble at school?

No, I would get told off for laughing and chatting in primary school a lot, but in secondary school I was good and geekily just wanted to learn and do well!

Who is your favourite singer or band?

Hard one….I do love Fleetwood Mac!

What's your favourite food?

Probably Red Thai Chicken Curry!
---
---
---
---