Profile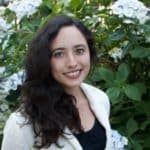 Marjorie Pichon
My CV
Education:

Primary and secondary school in Seattle, Washington, USA.
Undergraduate degree at Lewis and Clark College in Portland, Oregon, USA. Masters degree at the London School of Hygiene and Tropical Medicine.

Qualifications:

I finished secondary school in the United States, but we don't have GCSE's there. I then did a Bachelors degree in Psychology and a Masters degree in Public Health.

Work History:

* babysitter
* hot dog maker at a baseball stadium
* office assistant for university student support office
* barista, server and cashier at a bakery
* bartender at a wine bar
* referrals coordinator at a GP office
* planner of large academic policy meetings
* public health policy researcher

Current Job:

Research Assistant in the Gender Violence and Health Centre
About Me:

Public health researcher looking at social norms and how they effect women and girls around the world. I am also love being outside in nature, especially hiking and running in the mountains.

Read more

I live in London, but am originally from the Seattle in the United States. My dad is French and my mum is American, so I spent a lot of time on airplanes as a kid going back and forth between the two places. I think that is where my love of travelling and learning about different cultures came from.

I also love being outdoors in nature, especially in the mountains hiking and running around. In my free time I read and write, do yoga, (try to) cook new recipes, listen to music (and dance), and spend time with friends eating good food and watching movies or TV.

Read more

I have always been interested in why people behave the way that they do. When I first heard about psychology, and realized that is something that you can actually study, I knew right away that it was for me!

My work now is about empowering girls and women to talk about the challenges they face in their families and communities, and changing the way people think about them and act towards them. A lot of the times girls and women aren't listened to or respected, and people hurt them physically or emotionally. My work is about finding ways to help people make their relationships better.

Right now I am testing if a radio show can help with this. It is set in Tanzania and is about a 13 year-old girl who is trying to get good grades and be a good daughter and friend, but faces problems with her parents, teachers, and young men in her community.

My Typical Day:

Most of my day is spent in front of my computer reading, writing and planning studies.

Read more

I usually wake up, do some yoga and have breakfast. I then go to my computer and answer e-mails. What happens next depends. Sometimes I read about other people's research. Other times I read interviews and analyze what people have said to write my own papers. These days I am more likely planning studies and meeting with my colleagues a lot on zoom to make sure we have everything ready to go ahead. Working at a University is also great because there are a lot of other people doing very interesting work, and I get to go to talks that they give and learn new things.

My Interview

What did you want to be after you left school?

A travel magazine photographer.

Were you ever in trouble at school?

Not really. I was always very shy so even when I was doing something wrong I wouldn't usually get in trouble for it.

What's your favourite food?

Chocolate!
---
---
---
---