Profile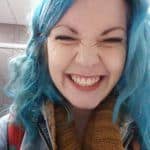 Melissa Barker
My CV
Education:

Primary School:
Blackrod Primary School (in a town called Blackrod, in Greater Manchester)

Secondary School:
I went to two!
Rivington and Blackrod High School (Year 7 and 8)
Then! I moved to Australia, so I spent my high school years at a school there (called Carine Senior High School)
About Me:

I'm a PhD student at Royal Holloway, University of London. Other than psychology, I love music! My favourite musicians are Aphex Twin, System of a Down, Radiohead and the Pixies! My favourite funny thing to watch is The Simpsons.

Read more

I live in two places! During the holidays, I live with my boyfriend in Preston (Lancashire) and when I'm at University I live in Slough (Berkshire).

In my spare time I like listening to and playing music. I can play the ukulele and a little bit of piano. I also like sewing and making my own clothes.

Read more

Interoception is just like your other senses that you would have learnt about in school (like vision, sound, taste smell and touch) but it refers to your sense of sensations happening INSIDE your body (like our heartbeat, feeling hungry or thirsty, hot or hot etc). I spend my days trying to find out how our ability to feel these sensations has an effect on our mental health, our emotions.

To do this, I spend a lot of time at my desk reading papers and planning new experiments. Some of these experiments are online and involve asking children and adults to answer some questions.

Some of my research also involves measuring sensations inside the body during experiments. I get to use some cool equipment to measure them! In some of the research I did during my undergraduate degree, I also used some special equipment which measured brain activity. You can see this equipment in the picture. This is called near infrared spectroscopy (NIRS) which is used to measure oxygen levels in the brain!

When I've finished my research, I get to go to conferences in the UK and other parts of the world to tell people what my results where (like you see in the picture). Sharing ideas is an important part of science, and this is one of my favourite things to do!

Find out more about my research at www.insulab.uk/take-part

What I'd do with the prize money:

I would like to make a short video series about interoception! I want to introduce people to what it is and why it is so important in a fun way.

My Interview

How would you describe yourself in 3 words?

Silly, sleepy, and shy!

What did you want to be after you left school?

Acting! Then I changed to psychologist, then psychology researcher

Were you ever in trouble at school?

Sometimes! Mostly for not paying attention

Who is your favourite singer or band?

Aphex Twin

What's your favourite food?

Sushi

If you had 3 wishes for yourself what would they be? - be honest!

I would wish that 1) I could fly, 2) I could stop time, and 3) that all my family and friends will always be happy

Tell us a joke.

Why did the pony get sent to his room? ...... Because he wouldn't stop horsing around!
---
---
---
---