Profile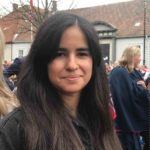 Victoria Garfield
My CV
Education:

I mostly went to school in Uruguay – I did GCSE equivalent there (12 subjects) and then I did international baccalaureate there (Humanities: philosophy, history, sociology, maths theory and practical, literature, English, Italian). I also had 18 months of schooling in Naples, Florida at a small school called Seacrest Country Day School.

Qualifications:

GCSE equivalent from Uruguay: philosophy, history, sociology, maths, literature, English, astronomy, music, PE, chemistry, physics, civic education, geography.

Birkbeck, University of London: BSc Psychology
Goldsmiths, University of London: MSc in Statistics for Psychology
University College London: PhD in Genetic Epidemiology

Work History:

Market research – call centre job – TNS (now Kantar Operations)

Child minder – for two families part time while doing my degree at Birkbeck in the evenings.

Research Analyst (freelance) for Wavemetrix – collecting data about films and other media-related things online and collating into a database.

Research Assistant (freelance) – Orla Cronin Research Ltd. Assisting the psychologist (Orla) with lots of research projects and organising things for her.

Customer services assistant – dry cleaners inside BNP Paribas bank – the gap year between my master's and PhD.

Personal Assistant to a psychotherapist – in her home and office in Marylebone. I booked travel for her, organised her diary, kept her company and we developed a friendship.

Private Tutor – for various agencies and also independently via putting up adverts at universities.

Post graduate teaching assistant – during my PhD I assisted with teaching.

Seminar Leader – Birkbeck, University of London – during my PhD and before.

Current Job:

I work as a postdoctoral researcher at UCL and also am a guest lecturer on several courses at UCL and other institutions.
About Me:

I'm a half British/half Uruguayan scientist, who primarily grew up in Uruguay. I really enjoy working in science but in my spare time I love to hike, watch telly, travel and hang out with my friends and husband.

Read more

I live in East London with my husband and we've been together since we were 22. We love to travel together and that's what we tend to spend most of our money on during normal times. Most Fridays we get takeaway pizza to wind down and relax watching a film together – my favourite pizza is a plain Margherita, I know I'm so boring! I enjoy running and lifting weights when I'm not working or eating pizza – being strong is a great feeling to me. Something else I enjoy is reading about Forensic science and psychology, as well as watching documentaries in this area. If I wasn't a genetic epidemiologist I'd be a forensic scientist or psychologist! 

My Interview

What did you want to be after you left school?

A criminal lawyer/barrister

Were you ever in trouble at school?

No

Who is your favourite singer or band?

The Gaslight Anthem (Brian Fallon)

What's your favourite food?

Pizza

Tell us a joke.

I'm not good at jokes - I don't have any!
---
---
---
---